AbanQ es el programa base de un programa ERP (Enterprise Resource Planning) orientado a la administración, gestión comercial y finanzas. Sobre él se cargan los módulos de aplicación que cada cliente necesita. Antes de junio de 2007 este programa se llamaba FacturaLUX Lite.
The initial objective of AbanQ is to create a computer application that allows developing solutions for the administration and management of SMEs, as well as different customizations that cover the management and financial needs of companies, based on the free software model.
AbanQ aims to be an ERP (Enterprise Resource Planning) software, which offers a solid, stable and optimized framework for the rapid development of any type of solution aimed at administration, commercial management, finance and, in general, at any type of application where large databases and administrative processes are managed. Applications built on AbanQ's open framework are cross-platform, internationalized, standards-based, and licensed under the GPL (GNU General Public License) free software.
AbanQ is free software, allowing the distribution, copying and modification of all its source code. The fact that AbanQ is free software is important, since it allows us to offer much more than the usual closed software applications for SMEs, it allows us to offer all the source code and a whole set of tools that make it possible to modify and adapt the software to the case by case of each SME, based on general and robust solutions, that is, SMEs are owners of the technology they use, and do not depend on proprietary software and third-party technology. In this context of work, it is possible to have different AbanQ open source solutions for different business sectors, and within each sector different variations of the general solution that cover very specific aspects of certain companies.
En resumen, con AbanQ las PYMES son dueñas absolutas de la tecnología software que utilizan y cooperan para la mejora de la misma. Esto reduce la brecha digital entre empresas, aumenta la competitividad de las mismas y permite redirigir el capital que se viene invirtiendo en licencias de software propietario hacia el mercado laboral tecnológico local, para la construcción y mejora de una tecnología propia.
Con AbanQ cualquier PYME podrá adaptar las aplicaciones ofrecidas a sus necesidades particulares mediante la contratación de los servicios de programadores locales, porque todo lo necesario, código fuente y herramientas, se encuentran disponibles de forma libre desde el primer momento para que cualquier programador adapte o amplie AbanQ.
InfoSiAL es la empresa propulsora, principal desarrolladora y administradora del proyecto AbanQ, proyecto reconocido por la OSDN (Open Software Development Network) y alojado en Sourceforge.net. Lidera un equipo de desarrolladores propio y desarrolladores independientes interesados en AbanQ y que han colaborado o colaboran en él, siguiendo el modelo del software libre.
El proyecto AbanQ tiene actualmente un gran número de seguidores, y es uno de los principales referentes que existen actualmente en software de su categoría para el sistema operativo Linux.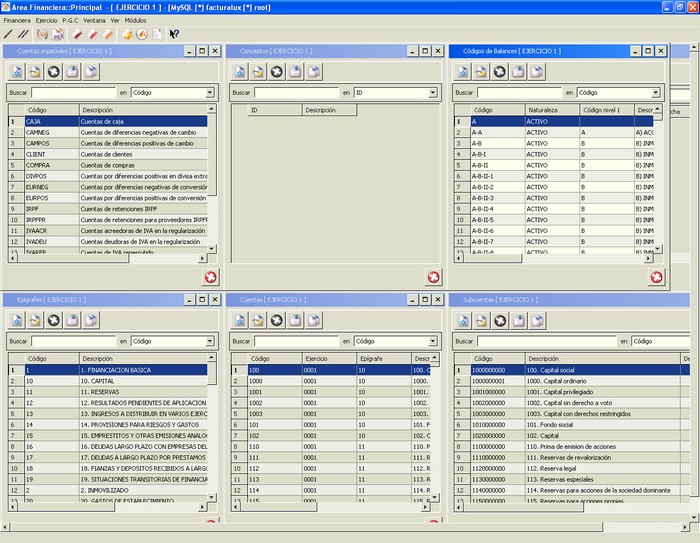 Soluciones sectoriales de AbanQ:
Estos paquetes contienen módulos y extensiones acordes con la actividad
Pack AbanQ PRO: Los módulos oficiales complementados por más de 15 extensiones adicionales
Pack AbanQ autónomos: Conjunto de soluciones para el profesional autónomo
Pack AbanQ comercios: Herramientas generales de venta al público
Pack AbanQ comercios S.A.T.: Para comercios que venden productos y prestan servicios de reparación, mantenimiento, etc
Pack AbanQ Textil / Calzado: Herramientas de venta y control de tallas / colores
Pack AbanQ proyectos y servicios: Control de realización de proyectos y prestación de servicios - Disponible próximamente...
Pack AbanQ comercios suministradores: Para comercios que venden suministros: ferreterías, bricolage, etc
Pack AbanQ mayoristas de textil y calzado: Venta por códigos de tallas y colores y TPV.
Pack AbanQ mayoristas suministradores: Artículos de ferretería, bricolage, etc
Pack AbanQ mayoristas de agroalimentaria: Trazabilidad y venta TPV.
Servicios de soporte e instalación de AbanQ:
Servicios de soporte técnico: Soporte técnico para uso e instalación de Abanq de los profesionales de InfoSiAL.
Soporte a la instalación durante 30 días: Soporte a la instalación de Abanq y los módulos vía email durante 30 días ilimitado.
Servicio anual de backups externos ( 10 Gb ): Servicio automático de creación de backups encriptados en un servidor externo.
Servicio de instalación remota: Instalación en su sistema Abanq, de modo remoto y transparente.
Servicio de asistencia urgente: Para resolución de problemas urgentes que requieren una respuesta inmediata.
AbanQ está disponible para los Sistemas Operativos:
AbanQ Windows: Para descargar AbanQ para PC clicar en el icono de color verde del menú.
AbanQ Mac OS: Para descargar AbanQ Mac OS clicar en el icono de color verde del menú.
AbanQ Linux: Para descargar AbanQ Linux clicar en el icono de color verde del menú.
AbanQ Android: Actualmente no está disponible.
AbanQ iOS: Actualmente no está disponible.