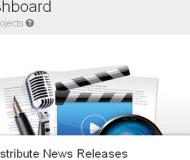 PR Newswire es un distribuidor de comunicados de prensa (agencia de noticias) con sede en la ciudad de Nueva York. El servicio fue creado en 1954 para permitir a las empresas enviar electrónicamente comunicados de prensa a organizaciones de noticias, al principio utilizando teleimpresoras. El fundador, Herbert Muschel, operó el servicio desde su casa en Manhattan durante aproximadamente 15 años. El negocio finalmente se vendió a Western Union y luego a United Newspapers of London. En diciembre de 2015, Cision Inc. anunció que adquiriría la compañía.
La distribución de Cision por PR Newswire permite a los comunicadores identificar e interactuar con personas influyentes clave, elaborar y distribuir historias significativas y medir el impacto financiero de sus esfuerzos. Cision es un proveedor global líder de software y servicios de medios ganados para profesionales de relaciones públicas y comunicaciones de marketing. 
Datos rápidos sobre la distribución de Cision por PR Newswire:
Fundación: PR Newswire fue fundada en 1954 por Herbert Muschel.
Integrado en Cision Comms Cloud ™ en 2017
Oficina central: Chicago, Illinois
Oficinas globales: Cision tiene 35 oficinas en 18 países, incluidos 10 en los Estados Unidos.
Orientación: cada comunicado de prensa de Cision Distribution está dirigido a palabras clave específicas elegidas por nuestro personal editorial experto. Los clientes pueden apuntar a personas influyentes con soluciones específicas de distribución geográfica e industrial.
Alcance de los medios: nuestra red llega a casi 3.000 salas de redacción, como The New York Times, ABC News, BuzzFeed y más. Enviamos contenido a más de 550 sistemas de contenido de noticias como Moody's, SmartBriefs, LexisNexis y McGraw-Hill. Además, nuestro portal de medios PR Newswire para periodistas tiene más de 39,000 usuarios activos mensuales.
Alcance global: nuestra red puede ayudarlo a llegar a más de 170 países en más de 40 idiomas.
Capacidad de detección digital: PRNewswire.com lidera el tráfico referido a la búsqueda orgánica de la industria que impulsa la visibilidad de búsqueda para el contenido del comunicado de prensa.
Alcance en línea: la red de PR Newswire llega a más de 4.500 sitios web de EE. UU., Incluidos sitios populares como Yahoo! Finanzas, MarketWatch y revistas de negocios. Nuestra red global llega a casi 10,000 sitios web, portales y bases de datos.
Alcance multimedia: la red de Cision Distribution distribuye multimedia a más de 2.500 sitios web.
Alcance de las redes sociales: Cision Distribution admite la distribución mundial de redes sociales en las redes líderes: Twitter, Facebook, LinkedIn, etc.