We recommend four free tools ( with premium options ) to listen to online music of all genres, with thousands and thousands of songs. These applications used by millions of users and have been in the market from long time. If you like music you must know it. In addition they are available for both PC, tablet or mobile. What are you waiting for?
Deezer is a web-based music streaming service. It allows users to listen to music content from record labels including EMI, Sony, Universal Music Group, and Warner Music Group on various devices online or offline. Created in Paris, France, Deezer currently has 35 million licensed tracks in its library, over 30,000 radio channels, 16 million monthly active users, and 5 million paid subscribers as of 6 November 2013. The service is available for Web, Android, BlackBerry, Windows Phone and Symbian.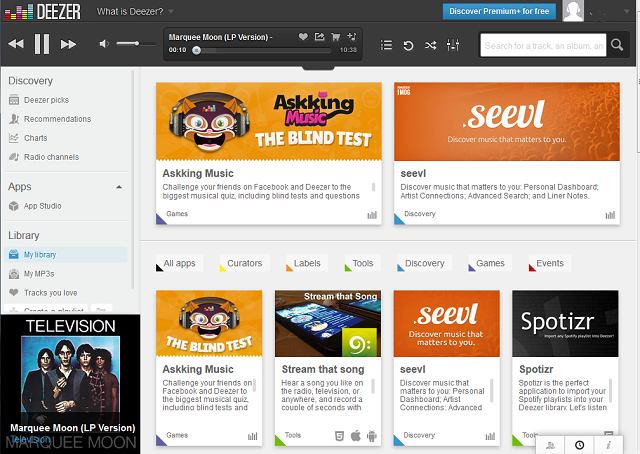 Spotify is a commercial music streaming service that provides digital rights management-restricted content from record labels including Sony, EMI, Warner Music Group, and Universal. Music can be browsed or searched by artist, album, genre, playlist, or record label. Paid "Premium" subscriptions remove advertisements and allow users to download music for offline listening.
Users can create and share playlists, or edit them together with other users. A playlist link can directly be dragged into an email or an instant messaging window. If the recipient follows the link, the playlist appears in the recipient's Spotify-client. Playlists auto-update if the author adds or removes tracks. Playlist links can be used with every Spotify client app. The same principle works for single tracks, which can be dropped on applications and websites at will. Many websites support sharing of Spotify playlists and songs and let users share, rate and discuss them. Users can examine their play queue. Spotify can flag playlist duplicates.
Spotify includes a Radio feature for Spotify Free and Premium accounts.
Last.fm is a music website, founded in the United Kingdom in 2002. Using a music recommender system called "Audioscrobbler", Last.fm builds a detailed profile of each user's musical taste by recording details of the tracks the user listens to, either from Internet radio stations, or the user's computer or many portable music devices. The free user account includes access to all the main features listed below. Registered Users are also able to post in the Last.fm forums, send and receive private messages and use the Last.fm client music player. For users living outside the UK, US and Germany, the radio service will require a subscription for €3.00 per month after a 50 track free trial.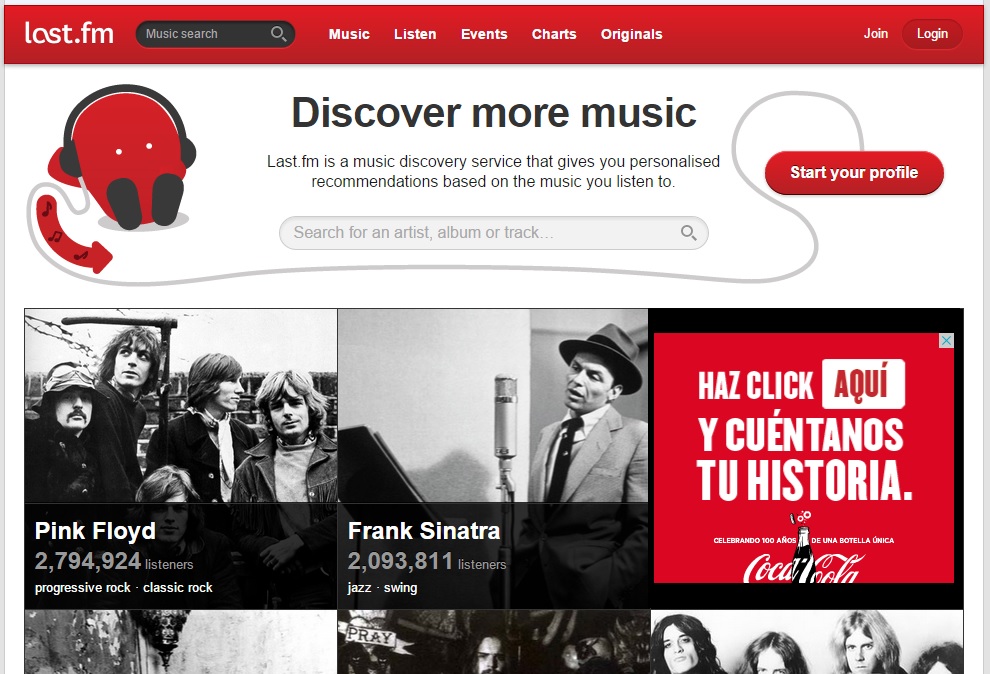 Jamendo is a music website and an open community of independent artists and music lovers. It bills itself as "the world's largest digital service for free music".
Since the beginning in 2005, Jamendo's music has been licensed under Creative Commons licenses. Applied to all songs, these licenses allow artists to publish their music and preserve their rights while providing users the freedom to download it for free and redistribute at least non-commercially, with other permissions varying by license. The goal of Jamendo is to be the link between artists who want to share their music and audiences around the world, both private and professional.
Jamendo offers artists the opportunity to publish their music for free under Creative Commons licenses (and also the Free Art License in the past). Artists joining Jamendo cannot be registered to any collecting rights society, such as GEMA in Germany or SGAE in Spain, as such organizations are often holding exclusive rights on artists' works. More flexibility is observed in other collecting societies, recognizing music under Creative Commons licenses as long as commercial use is excluded. This is notably the case for SACEM in France. In the United States, ASCAP and BMI even recognize the use of Jamendo by their registered artists.
Each artist has a profile displaying uploaded albums and singles, along with artist information. These profiles are managed by the artist, with access to various features and tools like stats, notifications about interaction with the music, fan messaging, blogging, etc. They also have other built-in promotional tools at their disposal, like generated widgets and social media sharing buttons (for Facebook, Twitter, Google+). Lastly, artists can receive donations directly from Jamendo users.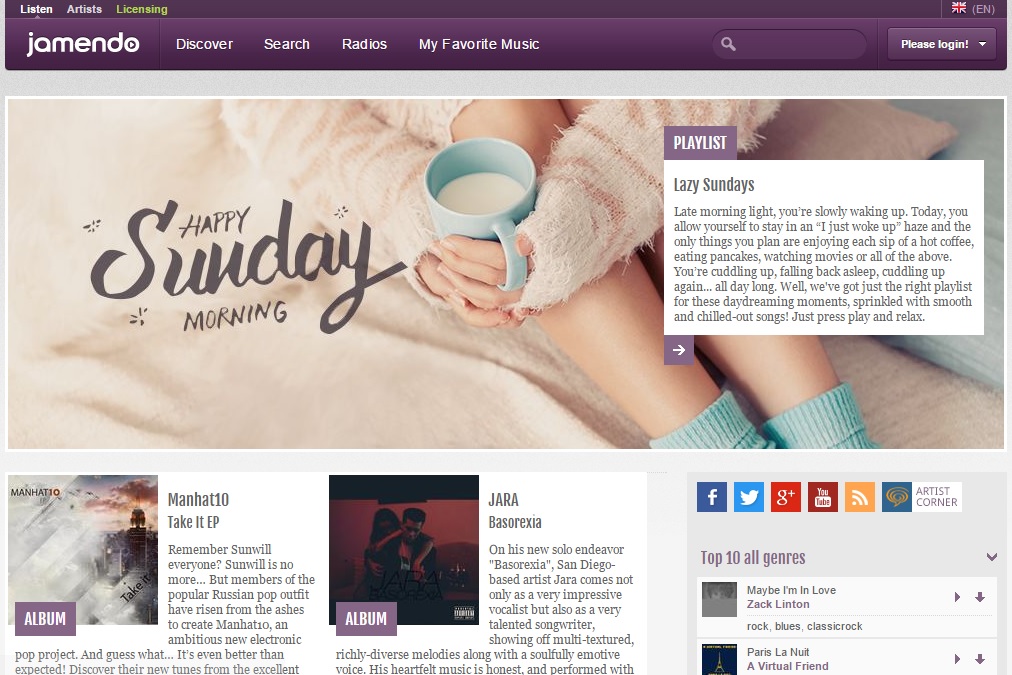 Enjoy! And if you liked, share it ;) Share is life!