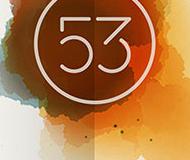 Paper is the best way to capture and connect your notes, photos, and sketches. Create checklists, spotlight details in photos, and sketch diagrams with unbeatable speed and ease — Paper is like a wall of sticky notes for everything that inspires you.
CAPTURE
Paper's swipe-to-style formatting makes creating checklists and notes faster and more fun than any other app. The photo spotlight tool helps you quickly clarify essential details.
CONNECT
Bring text, photos, and sketches together. Keep your ideas organized, and see everything in one place to make connections you can't see in siloed lists.
COMMUNICATE
Paper's unique visual notes are designed to help you get your point across quickly and precisely. Paper also lets you share your ideas any way you want to, including as professionally-formatted PDFs, Keynote and Powerpoint presentations.
Follow that thought
Bring your ideas to life in all their messy glory. Paper's perfectly-tuned tools make it easy to sketch, type, paint, draw — wherever your thoughts take you. Wave goodbye to distracting menus and let natural gestures guide you, keeping you in your creative flow.
The quickest way to collage
Add multiple photos to a single page and cut, stick, move and fix without the fuss of complex layers. From mood boards to storyboards, pull in inspiration from anywhere and get ideas flowing.
Your ideas, your way
At work, at home, on the go — wherever and however you get your ideas, it's never been easier to put them on paper. Organize pages into beautiful journals and sync them across your devices, ready to pick up where you left off.