Krita is a professional FREE and open source painting program. It is made by artists that want to see affordable art tools for everyone. This tool is designed for concept artists, illustrators, matte and texture artists, and the VFX industry. Krita has been in development for over 10 years and has had an explosion in growth recently. Krita offers many common and innovative features to help the amateur and professional alike.
concept art
texture and matte painters
illustrations and comics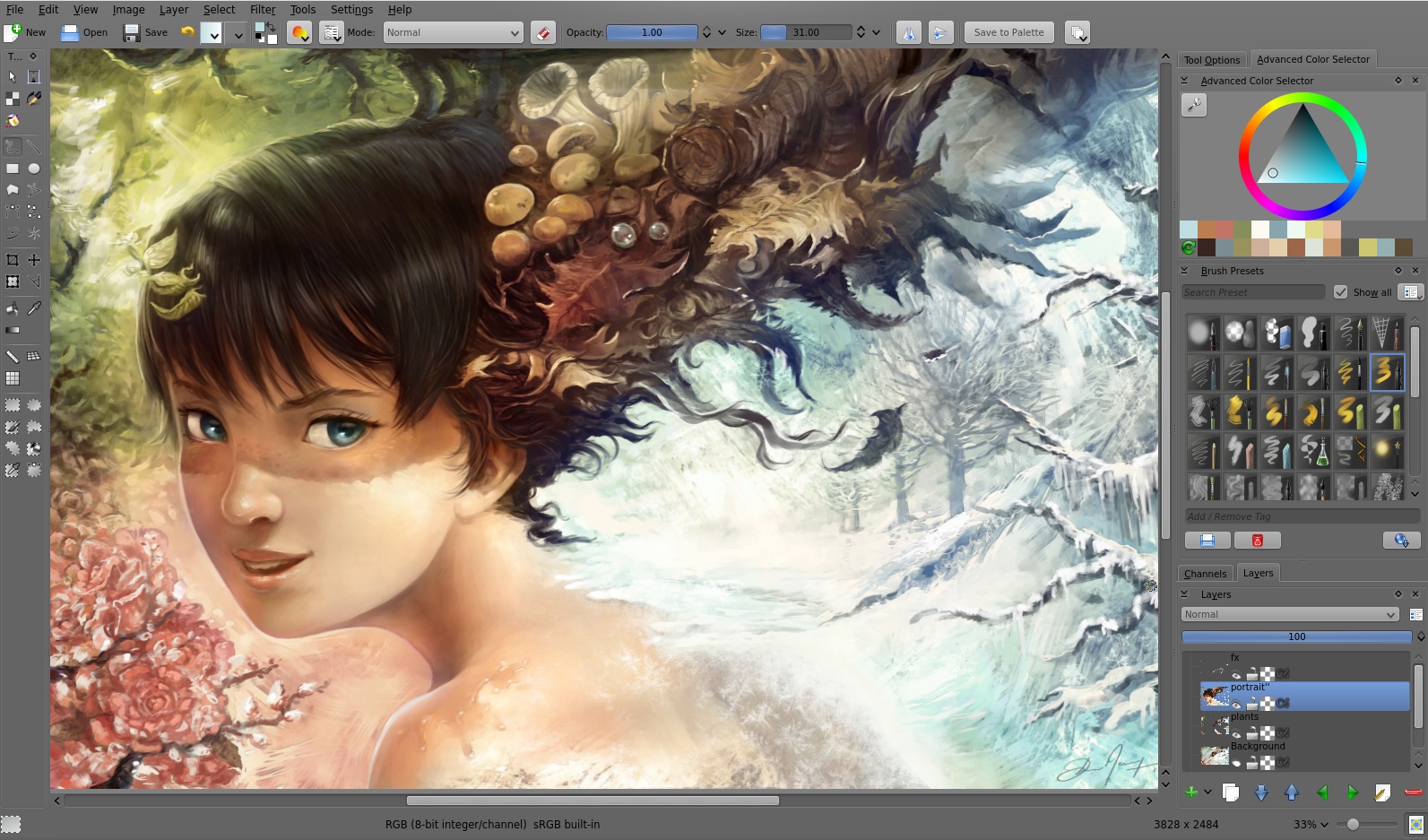 Beautiful Brushes Krita:
Over 100 professionally made brushes that come preloaded. These brushes give a good range of effects so you can see the variety of brushes that Krita has to offer.
Brush Stabilizers Krita:
Have a shaky hand? Add a stabilizer to your brush to smoothen it out. Krita includes 3 different ways to smooth and stabilize your brush strokes. There is even a dedicated Dynamic Brush tool where you can add drag and mass.
Vector & Text Krita:
Built-in vector tools help you create comic panels. Select a word bubble template from the vector library and drag it on your canvas. Change the anchor points to create your own shapes and libraries. Add text to your artwork as well with the text tool. Krita uses SVG to manage its vector format.
Brush Engines Krita:
Customize your brushes with over 9 unique brush engines. Each engine has a large amount of settings to customize your brush. Each brush engine is made to satisfy a specific need such as the Color Smudge engine, Shape engine, Particle engine, and even a filter engine. Once you are done creating your brushes, you can save them and organize them with Krita's unique tagging system.
Wrap-around mode Krita:
It is easy to create seamless textures and patterns now. The image will make references of itself along the x and y axis. Continue painting and watch all of the references update instantly. No more clunky offsetting to see how your image repeats itself.
Resource Manager Krita:
Import brush and texture packs from other artists to expand your tool set. If you create some brushes that you love, share them with the world by creating your own bundles. Check out the brush packs that are available in the Resource area.