Stellarium is a free open source planetarium for your computer. It shows a realistic sky in 3D, just like what you see with the naked eye, binoculars or a telescope.
It is being used in planetarium projectors. Just set your coordinates and go.
Stellarium features:
StellariumSky
default catalogue of over 600,000 stars
extra catalogues with more than 177 million stars
default catalogue of over 80,000 deep-sky objects
extra catalogue with more than 1 million deep-sky objects
asterisms and illustrations of the constellations
constellations for 20+ different cultures
images of nebulae (full Messier catalogue)
realistic Milky Way
very realistic atmosphere, sunrise and sunset
the planets and their satellites
Stellarium interface
a powerful zoom
time control
multilingual interface
fisheye projection for planetarium domes
spheric mirror projection for your own low-cost dome
all new graphical interface and extensive keyboard control
telescope control
Stellarium visualisation
equatorial and azimuthal grids
star twinkling
shooting stars
tails of comets
iridium flares simulation
eclipse simulation
supernovae and novae simulation
3D sceneries
skinnable landscapes, now with spheric panorama projection
Stellarium customizability
plugin system adding artifical satellites, ocular simulation, telescope configuration and more
ability to add new solar system objects from online resources...
add your own deep sky objects, landscapes, constellation images, scripts...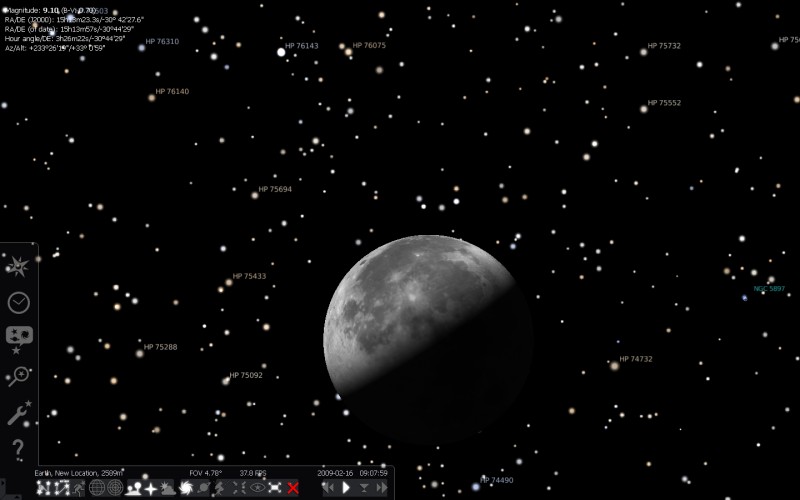 Stellarium system requirements:
Minimal
Linux/Unix; Windows 7 and above; Mac OS X 10.12.0 and above
3D graphics card which supports OpenGL 3.0 and GLSL 1.3
512 MiB RAM
250 MiB on disk
keyboard
Recommended
Linux/Unix; Windows 7 and above; Mac OS X 10.12.0 and above
3D graphics card which supports OpenGL 3.3 and above
1 GiB RAM or more
1.5 GiB on disk
keyboard
How do I start using Stellarium?
Set your location first! The default location is Paris, France, but on startup an IP-based lookup tries to guess your approximate location. You can click on your location on the map in the location window, or enter coordinates manually. Don't forget to save the changes. Do that by clicking "set as default", and switch off the automatic lookup. From now on, the sky will look exactly as it looks where you live when you run Stellarium. If you take Stellarium along on a trip with a laptop, you will need to adjust your location of course (or activate the IP-based lookup).
Use the mouse or arrow keys to look around.
Use the page up and page down keys to zoom in and out.
Use the left mouse button to select an object, the right button to deselect the object and middle mouse button or spacebar to center on the selected object.
Zooming on nebulas or planets is very interesting...
J slows down or reverses speed, L increases time speed, and K makes time return to normal speed.
Press the F1 key for help.