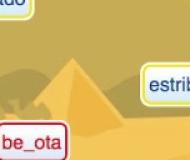 Problems with misspellings of your children or students?
With Walinwa you will have countless spelling exercises online and for free.
Spelling mistakes made by children and adolescents are a frequent problem that worries teachers and parents. Aiming to improve the spelling level, Walinwa has been launched, an educational platform that works through the 'web' and that uses visual memory and mental skills as the main techniques.
Walinwa offers personalized sessions of between 10 and 15 minutes, with spelling exercises, in which the student advances depending on his evolution, age and academic agenda. The phrases used in the project are extracted from Spanish literary works of all genres.
Walinwa's objective is to enhance mental skills such as observation, classification, logical thinking, comparison and ordering, take advantage of visual memory and, of course, improve misspellings in the Spanish language.
Features of this Spanish spelling exercise system:
Quick
10 - 15 min daily.
Without schedules.
Without displacement.
From anywhere and at any time.
Personalized
Continuous assessment.
It adapts to the rhythm and evolution of the student.
Establish areas for improvement and reinforcement individually.
Funny
Playful learning.
Methodology adapted to children of the XXI century.
Gamification environments to capture children's attention.
Synchronized
With the syllabus of the Language course.
Strengthens and expands the knowledge acquired in the classroom.
Who uses Walinwa, the best program with thousands of spelling exercises?
Parents, teachers, schools and students are using Walinwa
97% Recommend it. Because faults disappear
18,000 hours of weekly use: in homes and schools
65,000 daily exercises: For children from 8 to 17 years old
Improve spelling with Walinwa through her spelling exercises!