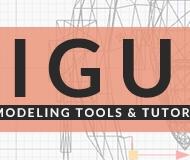 Mixing the accessibility of TinkerCAD with the power of more advanced 3D modeling tools, Figuro strikes the right balance for someone looking to advance their 3D modeling skills without diving in at the deep end.
Operating on the design principle of polygonal modeling, you create objects in Figuro by generating shapes (polygons), manipulating, and compositing them together. Such a system can cause issues when creating models with the intent to 3D print, so perhaps err on the safe side and use a dedicated STL checker/repair tool on your exports.
An underrated feature present in Figuro is the pleasant and easy to navigate UI. Add to this the work-from-anywhere convenience of the being browser-based, and you are left with a winning design solution. This 3D design software also has an extensive gallery where you can view creations from other users to gain inspiration or just to see what's possible.
Figuro is a free, online 3D modeling app. It can be used for game development, 3d printing, architecture and so on.
Figuro is a polygonal modeling application. It allows you to create 3D models and manipulate their vertices, edges and polygons using various powerful 3D tools.
High-end apps like Blender and Maya may be too complicated for your needs. 3D software for beginners may not offer the features you need. Figuro fits right in the middle.
Use Figuro if you're looking for powerful 3D tools wrapped in a friendly user-interface. It is easier to use than most other 3D software. Above all, it's fun and free!
Figuro Features:
Completely online. No installation required. Works anywhere.
Polygonal modeling with a whole bunch of 3D editing tools.
Booleans. UV editing. Subdivision modeling.
OBJ/STL import and export.
3D gallery to show off your models.
Video tutorials to get you up and running.