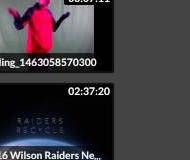 WeVideo: free online video editing!
Wevideo is a Google Drive online video editor program that allows you to create and edit videos in a simple way. It is affordable for anyone and allows you to work with different multimedia elements: videos, photos, audio, music and text. Its editor is very similar to any online video editor program.
The advantages of using WeVideo to edit video in the cloud are those that you have already read in countless articles where we have talked about web applications: it works from any computer connected to the Internet, directly from the browser, without installing additional applications and, in addition, consumes less resources from your team.
Some features of this video editor program | WeVideo:
GENERAL: Supports 8 languages: English, Spanish, Portuguese, German, French, Russian, Japanese, and Arabic
EDITION WEVIDEO
Three editing modes, to satisfy both novice and expert alike: Storyboard, Timeline, and Advanced mode
Connection with Facebook, Instagram, Flickr, Google Drive and Dropbox to use photo, video, music and graphic files that are already uploaded
Drag and drop media files in any order to build your story
Trim video clips to focus on key moments
Break long clips into shorter spans and reorder
Enter text for titles and subtitles in your mother tongue (supports most languages, including Mandarin, Spanish, English, Arabic, Portuguese, etc.)
Add text, effects, music, transitions and more
Record voiceover and video directly
Express your creativity with over 100 effects and royalty-free audio clips
STYLE WEVIDEO
Dale estilo a tu video con una gran variedad de temas profesionales y creativos
Asegurar consistencia y creatividad en todos los videos mediante la aplicación de un tema
PUBLICATION WEVIDEO
Publica en YouTube o Google Drive, y notifica a amigos de Facebook y Twitter
Velocidad de procesamiento súper rápida
Exporta en 480 p (SD) gratis, con la marca de agua de WeVideo
Exporta en HD de 720 p (HD) por US $ 0,99, o 1080 p (HD) por US $ 1,99
COLABORACIÓN WEVIDEO
Usa Google Drive o WeVideo para compartir e invitar a otros a colaborar
Edita por turnos o simplemente comparte bibliotecas de clips con los demás
EXTRA: Al USAR GOOGLE DRIVE WEVIDEO
WeVideo agrega una carpeta llamada "WeVideo" al directorio de Google Drive. Esta carpeta guardará el nombre de los proyectos de WeVideo y los videos que crees.