Vimeo is a video sharing website that is very popular owing to its HD content and diverse videos. The number of uploads in Vimeo and the quality of these is what sets this website apart. Though a part of these can be downloaded onto other devices, the audio cannot be extracted from these files. In order to achieve this, the Free Vimeo to MP3 converter is the most viable software.
Free Vimeo to MP3 converter is compatible with all major mobile devices. The conversion is a very simple method and can be done with a few clicks. So, if there is any audio bit that needs to be extracted from a video, the Free Vimeo to MP3 converter is the answer. It has a very fast rate of conversion and an added advantage is that there is no limit to the number of conversions that the user may carry on. The quality of the audio extract is commendable and since it is in a widely recognised format, the users can enjoy music on their devices, anytime and anywhere.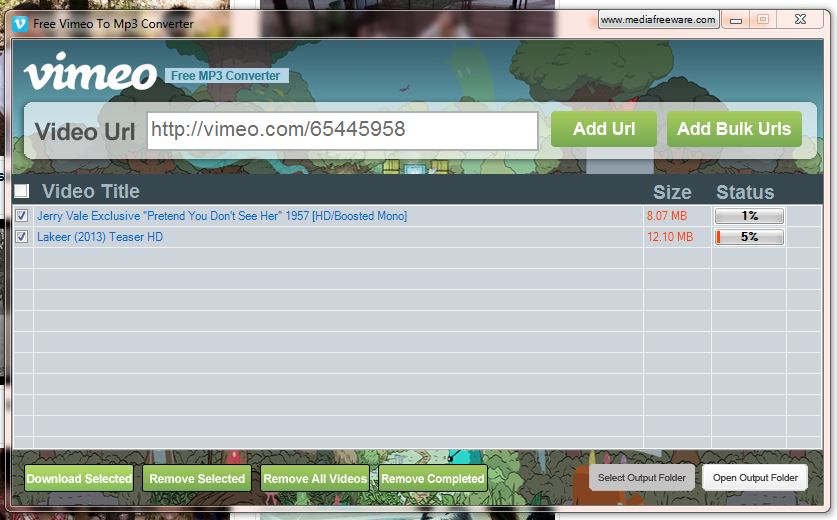 When the Free Vimeo to MP3 converter is downloaded, the user can copy the specific URL onto the 'Add URL' tab. The software even enables multiple URLs to be converted in a single go. As and when this happens, the Video titles are displayed below the aforementioned tab. The size of the files does not affect the speed with which the conversion takes place. At the bottom of the window, the options that are available include 'Download', 'Remove' (selected and all), and 'Remove Completed'.
These provide the user to make the respective changes. The last step is to select the output folder so that the downloaded audio extract is stored. Free Vimeo to MP3 converter is can be used to share audio files with other compatible devices