Freepik helps you to find free vector art, illustrations, icons, PSD and photos for using in websites, banners, presentations, magazines...
Freepik is, specifically, a resource platform for designers that was created in Spain. Freepik website offers photos, icons, PSD templates, and other basics for visual artists.
What the designer does is search for royalty-free images, making the professional's performance easier, saving time that can be spent developing other activities.
Its offer meets the demand of those who focus on content for web pages, advertising campaigns and all those who use Photoshop or vector templates.
It opened its market as a free image search engine, but its creators have known how to market their services with a freemium business model. Users can download free material, but with credit to Freepik. By paying a freemium service, the user should no longer attribute the credit.
Record that the word "freemium" refers to the business model that offers free basic services (free) with the option of enjoying complementary services, without limitations, or at a higher level through a paid subscription (premium).
Being the most important graphic source is not an easy goal to meet, but the creators implement the technology by pointing it there using an algorithm that determines the value of the content and classifies the results according to the user's personalized request.
Find Free Vectors, Stock Photos, PSD and Icons with Freepik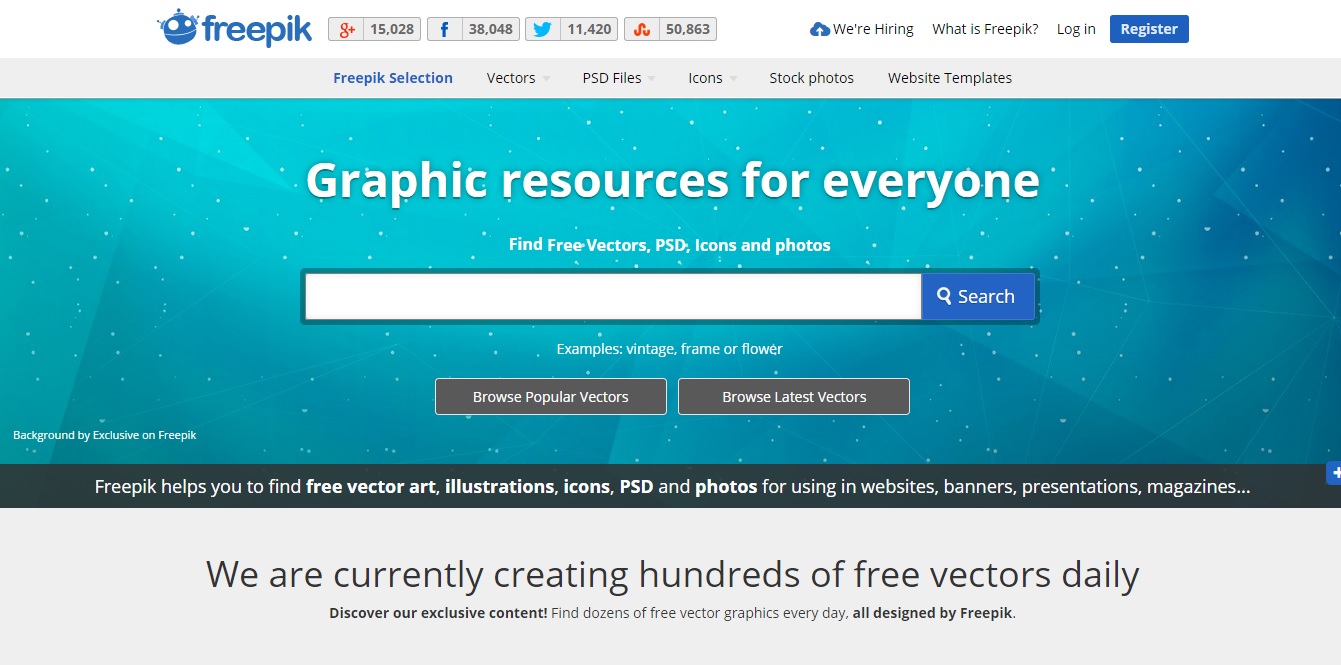 Why join Freepik?
Great content variety: Vectors, photos and PSD files that can be adapted to any creative project
Freemium model: Premium and Selection content available for everyone
The best quality: Here at Freepik we carefully select the content we offer
Usability: Our content offers unlimited creative possibilities
Most Popular Vectors of Freepik:
Animals
Background
Banners
Birthday
Business
Buttons
Cartoon
Christmas
Design elements
Easter
Graphics
Halloween
Human
Icons
Illustrations
Logo templates
Map
Music
Nature
Objects
Ornament
Ribbons
Silhouettes
Sports
Summer
Templates
Textures
Transport
Valentine
Water
Web elements
Web templates
Wedding
Signs and symbols
Travel
Food
Country
Event
Technology
Education
Health
Calendar
Most Popular Photos of Freepik:
Abstract
Animal
Architecture
Baby
Birthday
Book
Business
Coffee
Communication
Community
Couple
Dance
Education
Family
Fashion
Fitness
Flower
Food
Frame
Friends
Gifts
Hand
Health
Laptop
Lifestyle
Liquid
Love
Music
Nature
Party
Pet
Phone
Portrait
Real state
Sales
Season
Shopping
Sky
Spa
Sport
Table
Technology
Texture
Travel
Water
Wedding
Wood
Yoga
Interior
Most Popular PSD of Freepik
Backgrounds
Buttons
Calendars
Cards
Colours
Effects
Emails
Icons
Illustrations
Logos
Objects
Print templates
Text effects
Textures
Web elements
Web templates
Ui kit
Mockup