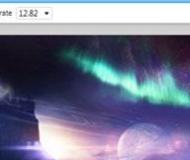 http://www.giffingtool.com
Giffing Tool is the best alternative to GifCam with which I have achieved to date. If you want to create GIFs and add various effects, there is no better solution, until you have WebM support for GIFs in high definition, up to 65 FPS. The tool is only compatible with Windows, and you can download it for free or paying whatever you want.
Resize and alter the playback speed of your gifs even after you have recorded. Optimizations are done automatically to mask out repeating pixels and exclude repeating colors to reduce the size, but not quality of your gif.
This tool exists to enhance the gif making process. Hundreds of revisions and dozens of features have been added through 23 updates since its epoch.
Giffing Tool been developed from the ground up to encase all the steps for making gifs with the cleanest kit for editing and publicising your creations in seconds. You can customize everything from how and what you will record to dialog for your viewers.
Giffing tool functionalities:
Caption
Crop
Loop
Reverse
Combine
Filter