Losing photos you've taken, whether it's due to accidental deletion, device formatting or data corruption, is a terrible feeling. Often, your camera device's memory cards, the most common storage media, are what suffer data loss.
Luckily, there are a number of photo recovery softwares available that can help you get your digital data back from a loss. Whenever you format a device or delete any picture from your camera or any digital storage media, the link to the photo is removed, but the actual data remains. You can recover it unless it has been replaced by new data. Photo recovery programs usually work on physically available data. In this article, we will explore a few free photo recovery programs and their performance.
Here are the top four photo recovery utilities that can recover data from an SD card or from a flash memory device (such as a USB stick).
PhotoRec is file data recovery software designed to recover lost files including video, documents and archives from hard disks, CD-ROMs, and lost pictures (thus the Photo Recovery name) from digital camera memory. PhotoRec ignores the file system and goes after the underlying data, so it will still work even if your media's file system has been severely damaged or reformatted.
PhotoRec is free - this open source multi-platform application is distributed under GNU General Public License (GPLV v2+). PhotoRec is a companion program to TestDisk, an application for recovering lost partitions on a wide variety of file systems and making non-bootable disks bootable again.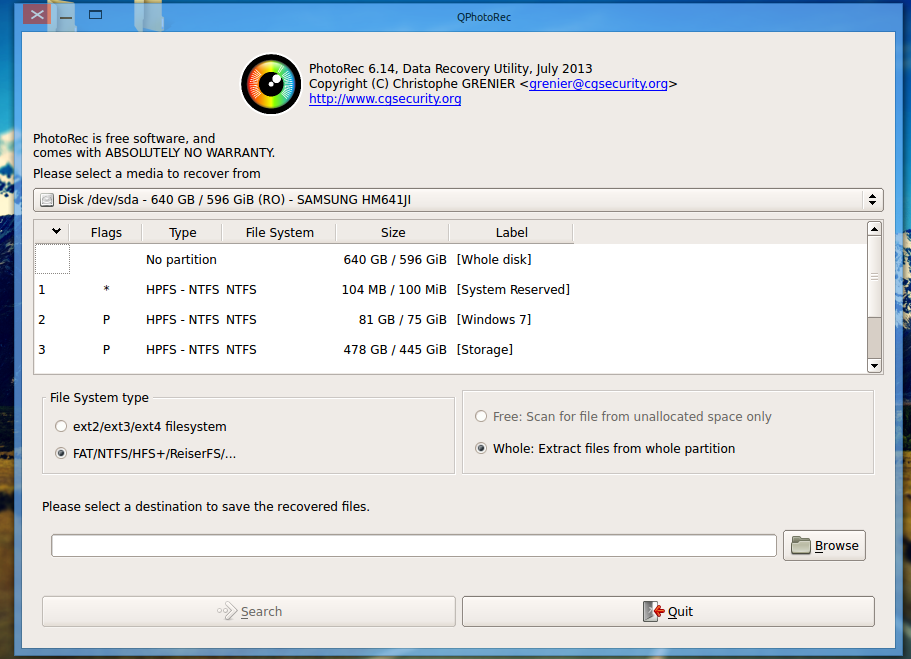 One of the best Free Photo Recovery Software to Recover Any of Your Deleted, Formatted, Lost Photos, Videos & Audio Fast, Easy and Reliable!
Recover your accidentally deleted photos.
Recover movies and music files.
Recover all kinds of photo, video, and audio files
Recover photos from PC, digital camera, Android phone, USB drive, etc.
Restore photos due to accidental deletion, formatting, virus infection, etc.
Recover images, videos and audio files from tons of storage devices like memory sticks, flash cards, Sony memory stick, IBM Micro Drive, SD Cards, MMC Cards, XD Cards, Secure Digital Card, Hard Disks, Zip Disks, Mini Disks.
Preview image, video & audio files before recovery.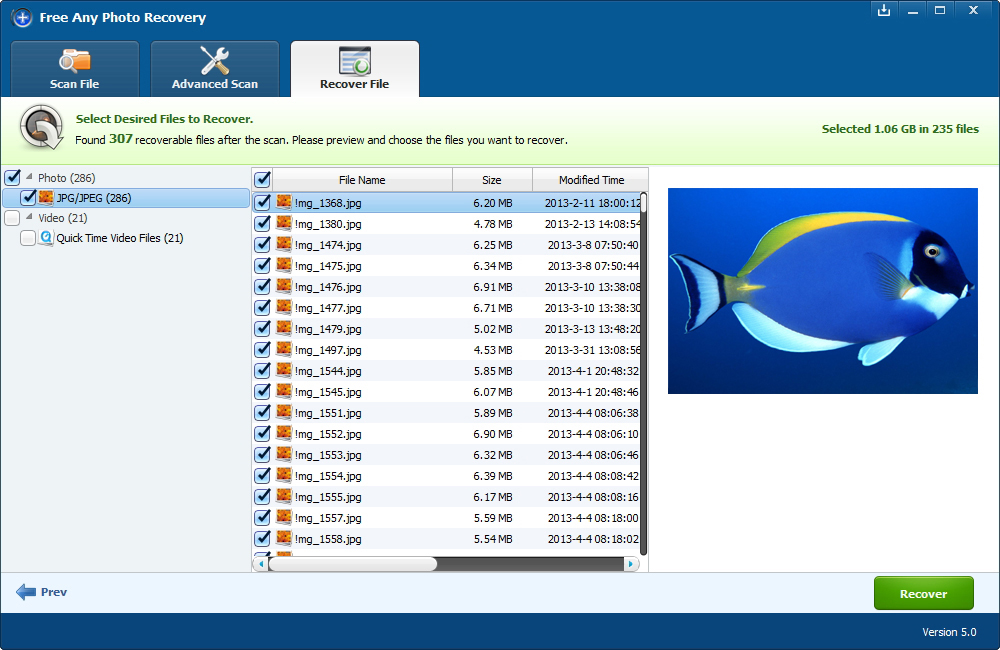 Pandora Recovery allows you to find and recover recoverable deleted files from NTFS and FAT-formatted volumes. Pandora Recovery will scan your hard drive and build an index of existing and deleted files and directories (folders) on any logical drive of your computer with supported file format. Once the scanning is complete you have full control over which files to recover and what destination to recover them to. You can BROWSE the hierarchy of existing and deleted files, or you can use SEARCH functionality to find a deleted file if you remember at least one of the following:
full or partial file name,
file size,
file creation date, or
file last accessed date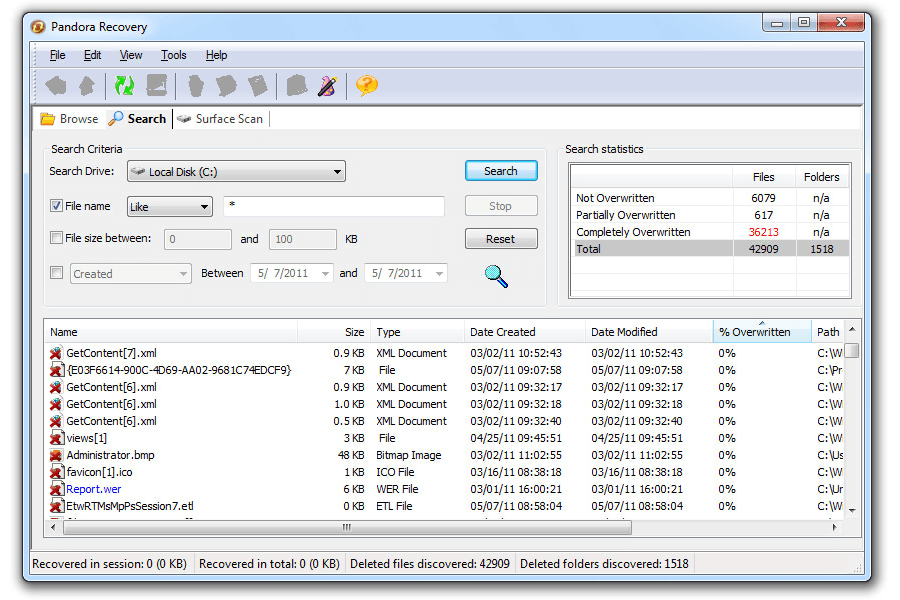 Undelete 360 is one of the best programs to use for restoring accidentally or unintentionally deleted files from your computer, regardless of storage medium.
Built on a very fast and efficient algorithm, the program will browse, search, and recover files that have been deleted as a result of an accident, a virus, or software and computer failures.
Undelete 360 can recover files deleted from computer hard drives, USB/thumb drives and memory sticks, the memory cards used in cameras, smart phones, and other devices, pen drives, and more. The program supports both file recovery and folder recovery.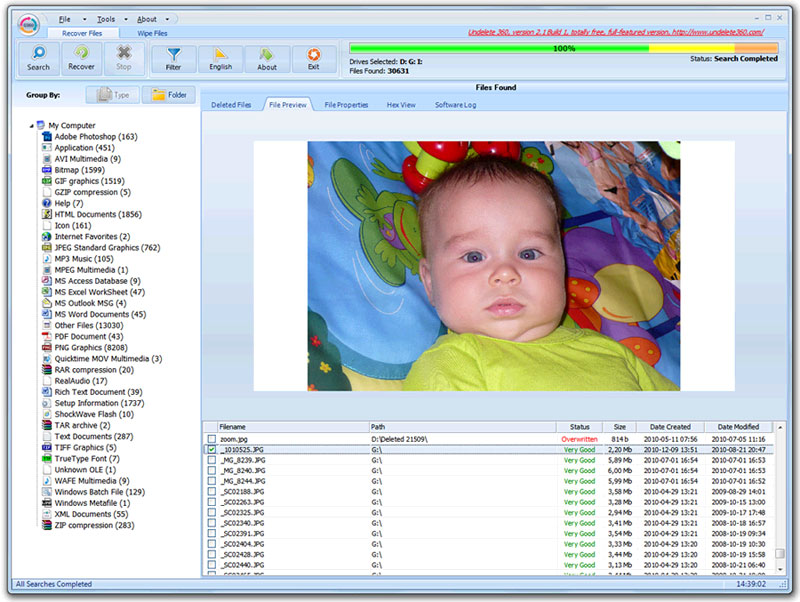 We hope this compilation likes you.