DU Speed Booster & Cleaner is a speed booster, ram booster, game booster, junk file cleaner, trash cleaner, memory booster, battery optimizer and app manager for your Android phones or tablet.
Trusted by 230 million users, DU Speed Booster is the only all-in-one speed booster, trash cleaner and antivirus app that optimizes your background apps, memory space, junk(cache) files and battery power. While keeping your device safe from virus and trojan, that can secure your private data with the AppLock function.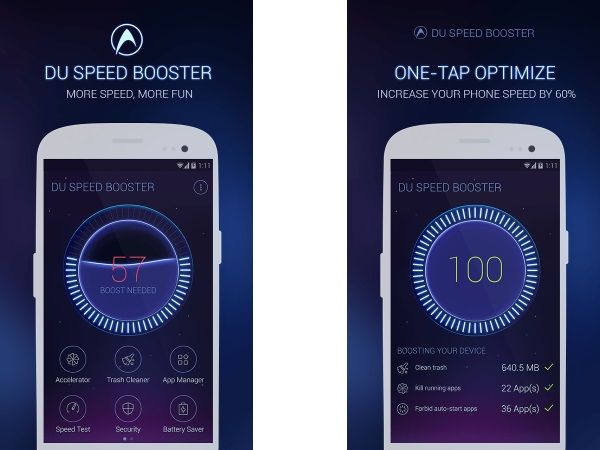 DU Speed Booster(Antivirus & Junk Cleaner)Highlights:
► Phone Boost
One-tap Boost: A single touch to speed up your devices and release memory
Regular Cleaning: Automatically closes background apps, keeping your phone at best performance 
Whitelist: You can add frequently-used apps to your whitelist
Home Screen Rocket Man: Brings you fun while clearing memory
► Junk File Cleaner
The junk-creating behavior of millions of apps has been analyzed so that DU Speed Booster & Antivirus can efficiently hone in on its targets (cache and residual files) with perfect accuracy.
Delete cache and residual files to reclaim storage, boost speed and improve the performance of your device and SD card.
► Security & Antivirus
Scan installed apps, memory card content, and new apps automatically. DU Speed Booster & Antivirus latest protection technologies against viruses, adware, malware, trojan and more.
► Apps Manager
Smart Task Manager transfer apps, games or files, move to SD card easily without scrolling from one screen to another one! 
App Manager for moving internal storage apps to external SD card will give you a lot of free space on your tablet or smart phone.
► Network Boost
This useful tool can reset all your network interface connection by one click.
And it has Vol Boost feature inside also by one click.
DU Speed Booster(Antivirus & Junk Cleaner)Features:
★ AppLock
The fastest & safest applock for android in the world; Security tool, easy to reset password.
★ Memory Boost
Boost your games and apps, free up memory (RAM), speed up your device and save more battery. Our 1 Tap Boost and Game Boost features make it easy to optimize directly from your homescreen.
★ CPU Cooler
Continuous monitoring temperature changes, detects apps highly consuming CPU and starts a cooling progress, effectively reduce the phone temperature.
★ Game Booster
Automatically improve your game speeds by 30%+ when launching games.
★ Charging Boost
Introducing the Charging Screensaver, to booster the charging speed by 20%.
Smart Charge
Display charge status in real time, accurately estimating remaining charge time.
Display notifications on the screensaver to never miss friends' messages.
DU Speed Booster & Cleaner is right here to deal with all issues that slow down your Android device performance! DU speed Booster is here to help you to Clean and Speed Up android device, android system or in one touch optimize all files on your tablet or smartphone! It will help you master and optimize your background apps, memory space, junk (cache) files and battery power, as well as inspect apps permissions and secure your phone from viruses.
Find us online:
Facebook: http://facebook.com/duapps
Twitter: https://twitter.com/duapps
Help fight against deceptive ads
DU Group is dedicated to providing a safer mobile experience for our global users, so we're committed to fighting against misleading downloads. We've found that some ads/redirected pages might be malicious promotion from unknown channels. If you come across one of these ads, you can help us to take them down. Please send us the link and screenshots of these ads at spam_report@duapps.com. We appreciate your kindly help.