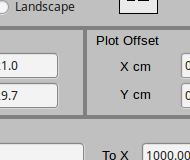 Create 2D CAD drawings with GroundCAD, which allows you to insert BMP images and various geometric shapes
Surveying and civil engineering professionals need the right tools to do their jobs, especially drawing applications. CAD utilities range from very simple drawing programs to extensive terrestrial projection suites. In the first category, you can include GroundCAD, a practical and lightweight tool that allows you to quickly make basic CAD drawings.
 
Create ground projections in a 2D environment with GroundCAD.
The GroundCAD program does not require any installation and is still very accessible, even when considering the actual drawing process. Engineers can add custom BMP images, as well as draw their own geometric shapes, such as circles, polygons, and simple lines.
One of the notable features of GroundCAD is the program's ability to import data from common TXT or CSV files, as well as specially formatted containers such as DXF, Sokkia SDR33, or Topcon FC4 and GTS7 documents.
Rotate graphic elements and generate DXF output with GroundCAD
The basic layout of the GroundCAD interface is very intuitive, with a large canvas for drawing all the essential elements, as well as multiple buttons across the top. The underside features numerous tabs that provide users with a wide range of tools to tackle any issue. The lightweight program supports working with layers or markers and users can apply scale, rotation and explode modifiers to any graphic element.
 
Text messages can also be inserted and users have complete control over the thickness, style and padding of any added geometric shapes. The magnification factors can be applied by accessing the zoom functions and users can export their projects to various simple or complex formats, such as CSV, BMP, PNG or DXF12 files, Google KML3D and SVG data containers.
GroundCAD: A Lightweight and Convenient 2D CAD Drawing Tool
In conclusion, GroundCAD is a simple ground projection CAD application that can be helpful for engineers. The program allows its users to create simple 2D drawings, complete with support for a wide variety of geometric shapes and multiple layers. When satisfied, users can export projections to DXF or SVG formats.
Available operating systems for GroundCAD:
GroundCAD for Windows
GroundCAD for Linux
GroundCAD for Mac OS
Drawing 2D
Point Line Polygon Rectangle Circle Ellipse Text,Image with thickness,color,hatch...
Drawing commands : rotation,scale,explode...
Labeling Point Line Polygon Rectangle Circle
(Name Code Comment XYZ Length Angle Area Radius ...)
Area Calculation by points or by object.
Import-Export module :
Image bmp,jpg,png
CSV TXT SVG DXF R12 SOKKIA SDR33
TOPCON FC4 GTS7 XML LANDXML
LEICA GSI8 GSI16