TPV Bar de Copas, Pubs y Discotecas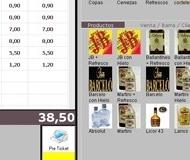 http://www.solvermedia.com/
A program for Bars, Pubs or discotheques managing, designed in the comfort of the end user. Among others, allows control and management of the Happy Hour, drinks made with the cost of the ticket, 2x1 promotions , flyer and so on.
POS Software for Bars, Pubs and Clubs
Creation of families of combined
Configuration of lounges and bars
Ticket Sales
Local network connection of several workstations
Consumption of invitations
Processed products
Creation of product by-products
Partial collections
More features of TPV Bar de Copas, Pubs y Discotecas:
POS Box: Manage all your sales by selecting the area to which they belong or working with quick checkout.
Partial collections or sales union: You can make partial collections of a single ticket or on the contrary, you can join two open sales in a single account.
Combined type families: Work with several options of a combination, either at a single price or depending on the product it includes.
Stock control: how much whiskey do you have left in the warehouse? From the terminal you can check this and much more about how your inventory is.
Sending cash closings by mail: every time a cash close is made, it will arrive at your email, so that without being in your business you check what your sales have been at the moment.
Promotions and Happy Hour: Manage promotions to impact your customers and make them loyal to your business.