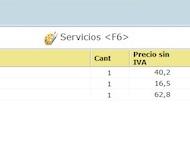 http://www.solvermedia.com/
Exclusive program for small and medium businesses and freelancers who need to manage all billing, expenses and stockaje of their company quickly.
From a simple interface, designed not need courses in using the software, the user can perform in short steps the management of his business.
All this through a visual user-friendly environment and learning.
Free billing program for freelancers and SMEs
Configure your products
Configure your services
Make delivery notes, budgets, invoices and credits
POS cashier option
Customer Debt Control
Comprehensive cost control
Control of Remittances of Bank Receipts
Client History
Features of Billing SMEs - CRM:
Make your delivery notes, turning them into invoices, your budgets or directly your invoices. Work with the POS box and make tickets.
Make an exhaustive control of all your expenses, entry, expenses pending payments, total expenses, forecasts, etc.
Exhaustive control of the stock of products, from sales to returns, low warehouse, inventories, etc.
Possibility of registering several rates and associating each client with the corresponding rate.
Exhaustive analysis of all the budgets, delivery notes and invoices made up to date. Freelancers.
​​​​​​​You can send all your invoices, budgets, delivery notes, returns to your client's email, you can also send a specific message by email and this will be reflected in your client's file.