Odoo (previously called OpenERP) opensource ERP solution that integrates functions for sales, CRM, project management, accounting, warehouse and inventory management, manufacturing, financial management, ecommerce or online store, human resources, and others. The basic package is sufficient to manage the processes of an important SME, and adding some modules, a large company like Danone or Auchan - Alcampo who use it. In addition, thousands of Odoo modules and applications are available for special functions and sectors. This ERP suite allows you to work remotely using a powerful web interface from a computer or mobile device of any type connected to the Internet.
Odoo is a powerful and absolutely professional application that integrates all the processes of the company and allows easy maintenance of the correct control of everything that happens in the company and its environment. The software is free.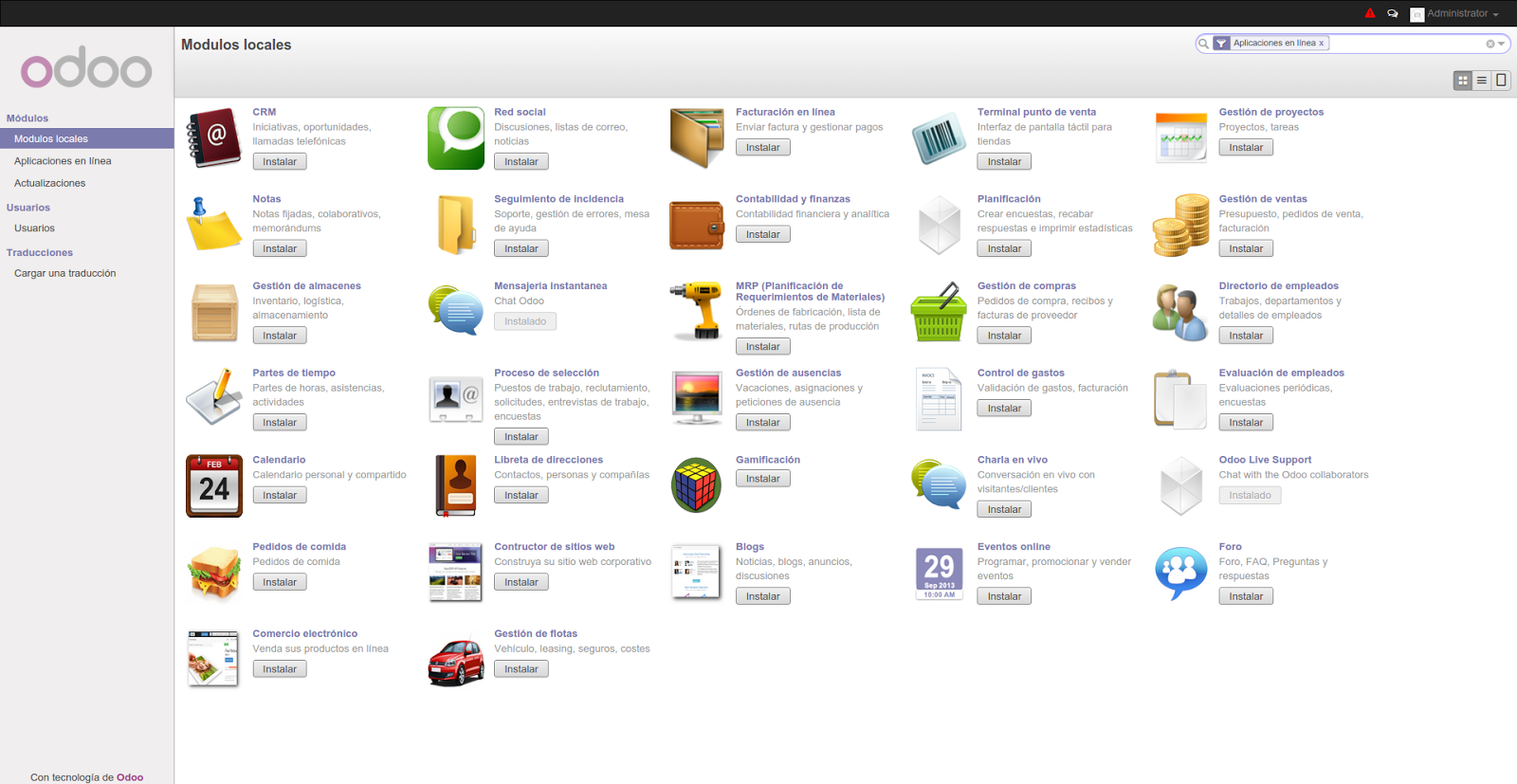 It has modules of "accounting localization" or adaptation to the official accounting and finance standards of large companies and small and medium enterprises (SMEs) in Spain and its autonomous communities, Mexico, Colombia, the United States, Argentina, Chile, Bolivia, Brazil, Costa Rica, Cuba, Dominican Republic, Ecuador, El Salvador, Guatemala, Nicaragua, Panama, Paraguay, Peru, Puerto Rico, Uruguay, Venezuela, Portugal or Morocco.
Odoo is a very high level ERP, free and free does not have licensing costs, only the costs of implementation and training.
The main sections of the basic package of Odoo ERP software are:
Messages / Inbox, Outbox and Files / Calendar
Sales / Opportunities / Budgets / Orders / Contracts / Billing / Equipment
Terminal Point of Sale (POS) / Daily Operations / Orders / Products / References / Prices / Stock
Projects / Tasks and Incidents
Accounting / Billing / Suppliers / Bank & Cashier / Plans / Seats / Assets
Purchases / Budgets / Incoming Products / Invoices / Products /
Warehouse / Delivery Notes / Inventories / Stock Levels / Total Traceability / Supply Chain Management / Costs
Manufacturing / Planning / Bill of Materials / Products / Costs
Human Resources / Selection Process / Temporary Monitoring / Expenses / Absences
Restoration or Meals / Orders / Accounts
Fleet / Vehicles / Vehicle Contracts / Fuel / Services Registry
Reports / Boards / CRM / Analysis Sales / Analysis Accounting / Analysis Human Resources
Highly professional electronic commerce site progamming system fully integrated with sales, inventory, accounting, etc.
Integrated Business Intelligence (BI)
Integrated VoIP
Helpdesk integrated with all other Odoo applications.
MRP (Material Requirements Planning or Material Requirement Planning or Manufacturing Resource Planning), PLM (Product Lifecycle Management) and Quality and Maintenance Management.
ERP that is improving the business of very large companies such as Grupo Danone, Auchan or Alcampo, La Poste (Correos de France) or Hyundai Motors (South Korean car manufacturer), AT & T (United States Telecom) Namur (Belgium), global consultancy McKinsey & Company, Huawei Technologies (China's mobile device maker), and hundreds of thousands of companies of all sizes including SMEs and micro enterprises, and institutions around the world.