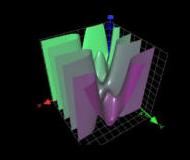 To plot a 3D function simply type it down and the graph will be plotted instantly after each key stoke. Customize your graph by changing the default parameters via the intiutive user interface.
Plot Equations
Plot any implicit or explicit equation in 2D or 3D. Supported coordinate types are: Cartesian, Polar, Cylindrical and Spherical. Parametric equations can be plotted as well as inequalities.
Plot Data Points
Import and plot scatter cloud points and view them as 3D points or convert them into a single surface mesh. The rendering is done in real-time allowing for incredibly fast and responsive view.
Easy to Use
The beautiful user-interface is carefully designed to allow for maximum efficiency with no learning curve. There is no need for scripting; simply type down an equation and see the result instantly.
Graphing Calculator 3D Features
The graphing capabilities of Graphing Calculator 3D includes:
Plot 2D & 3D functions
Implicit equations
Parametric equations
Inequalities
3D scatter points
Generate table of values
Cartesian coordinates
Polar coordinates
Cylindrical coordinates
Spherical coordinates
Import csv & excel coords
Import live coordinates
Variable sliders
Fast rotation & graph animations
High precision computations
3D shading & transparency effects
Save as high-resolution images
Define recursive functions
3D region grapher
The color and appearance of all generated graphs can be customized in practically all possible ways.