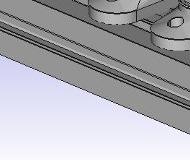 DipTrace is quality Schematic Capture and PCB Design software that offers everything to create simple or complex multi-layer boards from schematic to manufacturing files.
DipTrace is the first intuitive software of its kind, with:
Easy to learn user interface
Multi-page and hierarchy schemes
High efficiency automatic router
Advanced Plotting Tool Manual
Extensive import / export capabilities
High speed signals
Advanced real-time verification (RDC)
3D PCB preview and STEP export
Create files for production
Commitment to the future
After only a couple of hours of using the software, you will be able to design simple boards and then improve your skills step by step. The basic features are sufficient for simple projects and the advanced features are intended for complex circuit boards.
All DipTrace modules share similar interface and basic design concepts. The tutorial includes detailed instructions for all stages of board design. It is included in the DipTrace installation package.
A 30-day trial period of the full version, multiple editions, and the upgrade without overspeed, will satisfy even the most cost-conscious managers.
DripTrace modules:
Schematic capture
Advanced tool for generating schematics with a multi-level and multi-level hierarchical design that allows the engineer to connect pins visually, without cables, using network ports, buses, or logically. Electrical rule checking and hierarchical verification work from the earliest stages of design through to completion of work. The Schematic Capture module allows the import and export of different EDA / CAD and NetList formats.
PCB layout
Thought for the design of high-quality printed circuit boards, the PCB layout offers intelligent routing and placement tools, high-efficiency automatic router, hierarchical block copying, intelligent project structure, and verification features that ensure precision even for more complex projects with high-speed signals. Real-time DRC enables errors to be corrected on the fly and quality increased throughout the project. Files of various formats EDA, CAD, NetLists and files for production can be imported and exported.
Library creation
Library management system with component and pattern editors and direct import from outside the DipTrace design environment. The component and pattern editors include the smart library structure and allow rapid creation of components and patterns with built-in templates. Massive pin naming, pad numbering, and editing functions allow the designer to create complex multi-part patterns and components with hundreds of pins, faster than ever.
3D Models
It works as part of the PCB Layout and the Pattern Editor. The 3D module allows the designer to preview the board with components installed at any design stage, rotate and move it in real time with hardware acceleration. The 3D model of the board can be exported to mechanical CAD (Step, VRML). DipTrace imports 3DS, VRML, STEP, and IGES files as 3D models. More than 7,500 models are provided free of charge.